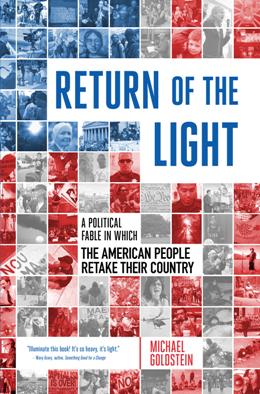 It is the night of the Winter Solstice in 2120. At one of thousands of community gatherings across the United States, a storyteller begins the annual retelling of how, back in 2023, the people took over their own government, making it a means for mobilizing their collective power to promote peace, social justice, environmental responsibility, and a society hospitable to the needs of the human spirit. The storyteller explains the effects of every area of public policy being dominated by corporate interests and why a united movement, led by a new kind of grass-roots organization, was necessary for real change. She tells how, over a period of years, that movement developed to massive proportions and succeeded in creating a nonviolent revolution. Part vision of the road forward for today's concerned citizens, part organizing tool,
Return of the Light
is a wonderful source of hope and inspiration.
Praise For Return of the Light…
"In these dark days for humanity and the earth, as American capitalism seems unstoppable in its class war on the poor and the American middle class and its reckless destruction of the life-support system of the planet in pursuit of profit for the 1%, Michael Goldstein's
Return of the Light
offers a story of hope and a vision of an alternative future. It will nourish the souls of the discouraged and challenge the cynicism of those activists and social change agents who feel defeated."
—Rabbi Michael Lerner, Editor of
Tikkun Magazine
and Chair, The Network of Spiritual Progressives
"
Return of the Light
is a utopian
Looking Backward
analysis of society and how a prosperous, equitable politico-economy can be created. Clearly written, hopeful and useful for those interested in building a real democracy."
—Michael Parenti, author of
The Face of Imperialism
and
Contrary Notions
Accessible Pricing, Diversity Rebate
Michael Goldstein and his publisher,
The Printed Voice
are committed to making the book accessible to people of limited means.  The cover price is only $10.95.  Amazon is offering a 10% discount.  And, for a limited time, if you order two to six copies and will certify that you are giving the extras to someone less likely to encounter and be able to afford the book (the security guard at your bank? the produce person with whom you chat at your supermarket?), we will refund you another 15% of the purchase price –
click here for coupon
.